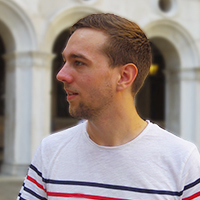 Shibuya, Tokyo, Japan
Hello and welcome on my personal website. My name is Julien Soret, I'm 28 years old. I live in Lille, in the north of France, where I am Web Developer at Nextoo and currently on mission in the Q&A team at Decathlon International.
I ♥ the Web ...
I love the Web, and since I'm young! From my first personal pages on AOL to my Master E-Services at University of Lille1, I never stopped discovering new tools to build my next websites and apps.
I specialized in PHP framework Symfony but I like to touch at every fields.

My experience mostly comes from my internship at Les-Tilleuls.coop and also my apprenticeship at Nextoo where I'm still working in now.
Beside this ...
My big hobby is the internation world. With the foreign languages which I practice regularly and with the trips. I am always ready to add a destination to my trips list.
I am also active in the welcoming of Japanese students in Lille, by organizing meetins and events, and by helping the International Office of Lille1's IUT for 4 years.

I am also a regular player of futsal and a big fan of football/soccer in international matches. I never miss a big event like the FIFA World Cup or the UEFA Euro ! I'm a supporter of France, Japan and Germany. My Bucketlist